About association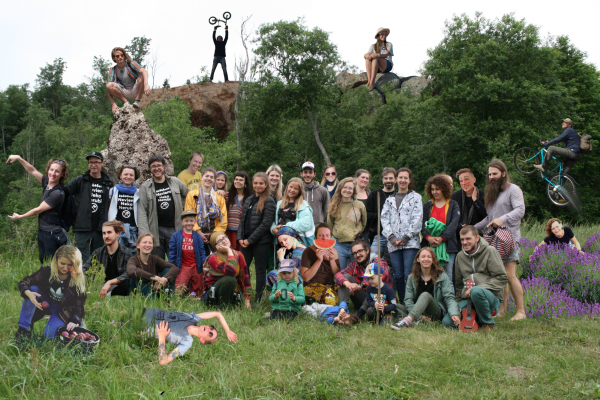 The aim of the association is to promote sustainable development of Latvian society, cultural and environmental education through lifelong learning of young people and adults and participation in social processes. Over time, the association has also become involved in projects and activities promoting democracy. We care about an inclusive and open Liepaja society, which everyone can get involved in creating. 
Since 2015 the association has been working thematically in the following directions:  
Cycling cultural events: for several years in a row, during the cycling season, we organized Fridays "Nakts Velo Rats' ' with the aim of inviting people to choose alternative, healthier ways of spending Friday evenings without intoxicating substances. Juliannas pagalms bicycle laps: 12 hour endurance rides around the Juliannas pagalms area. Each trip is dedicated to a specific theme, such as the European elections, with the slogan ''This time I will wote", encouraging participants to go to the elections a few days after the event. Self-service bicycle workshop "Radi Velo Pats'', giving Liepaja residents the opportunity to learn to maintain their own bicycles.

Promotion of volunteer work: we regularly look for the opportunities for local youngsters to go on international volunteering experiences, as well as to host foreign youngsters in our association and coordinate volunteer work programs also for other Liepaja and nearby regional organizations. Volunteering is not only a healthy pastime with growth opportunities, but also a tool to make a difference in your community. We have implemented the project "Create Volunteering Yourself" supported by the Society Integration with the aim to popularize volunteering in Liepaja.

Environmental education and promotion of sustainable living. It includes training, workshops and informative events, as well as our activities principles. In the past few years we are also focusing on the promotion of a zero waste lifestyle. In 2019, we opened the free swap shop "(pār)maiņas punkts" - anti-consumer culture promotional and creative place where you can help to develop community, learn new skills and meet cool people, as well as exchange clothes, books and other things.

Promotion of civic awareness of Liepaja residents: especially thanks to the Democracy Culture project implemented by the Active Citizen Fund, which resulted in a local project "Create Liepaja Yourself".

Non-formal education events: over the time we have developed non-formal education as one of our main activities' tools. We also use it as a principle for organizing activities. The pillars of non-formal education are four principles : learning to be, learning to be together, learning by doing, learning to learn. Thereby, we also use the methodology of non-formal education in building a community, long-term involvement of people and actualization of important issues in society.

Inclusive events. Related to volunteering and non-formal education, attracting youngsters who, due to various circumstances (social, financial, mental health,etc.)  have had fewer opportunities than their peers. We actively support youngsters with special needs - we involve them in international and local projects, we are looking for appropriate activities that suit them.
Support us!
If our ideas and activities are close to you and you wish to support the association's work, we will be happy about your donation.
DONATE
Purchasing our association's T-shirts or with transfer to association's "Radi Vidi Pats" bank account :
Name: Radi Vidi Pats
Reg. No. 40008092287
Bank account No. LV25HABA0551011071632
Bank: AS "Swedbank"
SWIFT code: HABALV22
Note: Donation