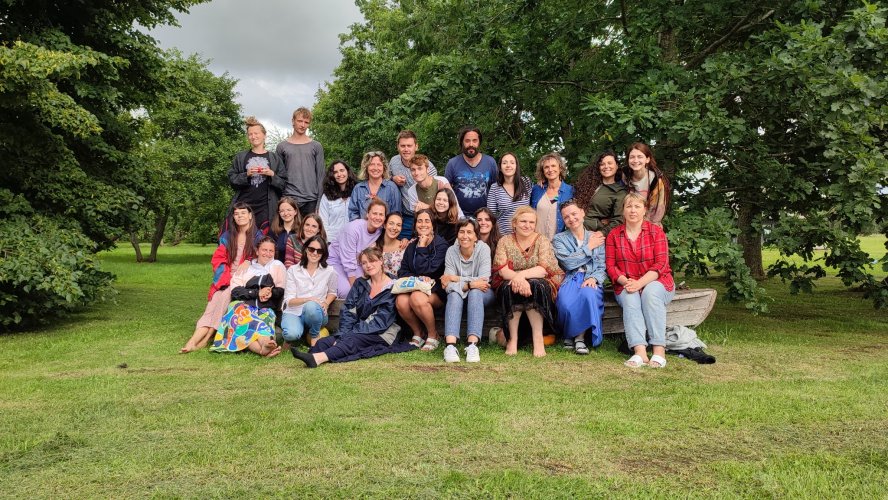 Burning boundaries brings Burn Out
Hey there, it's Gloria. If you're a regular in RVP, you might know me. If you were a regular reader of this webpage back in 2019-2020, you might remember me. And if you're new here, let me quickly introduce myself: I'm a south Spanish young woman who did her 1-year-long ESC project in this organization and got so bound with the city and people that decided to come back. It is part of my personality to seek other ways to gain perspective about my life when I'm not feeling that I am in the right place. That may be another reason why I left Spain for the second time in less than a year after I came back.
Based in Liepāja, I've been doing this and that ever since. Mainly teaching my native language to Latvian people. Last spring went very well. I was doing amazing, I was happy, chill; it was an easygoing period. When Linda told me about the "Shine your light" training course, happening at the beginning of July, I thought it was a good opportunity to get ready for what might be to come, because, you know, I was doing too well, really, so for sure, that would have to change at some point.
And it did. First, it was about a loss. A loss of trust, a disappointment, an input to change something. To move on from some things, from someone. And it happened to occur a few days before the Training Course. When I went to this project I'm talking about, everything sounded familiar, like echoes from a past I never wanted to get back, a past of anxiety, depression, and studies in psychology. But also sounded a little bit like a premonition, like getting ready for a future I knew was coming. Well, anyways, I was sitting there, getting all my shit together and trying to absorb as much as I could. I was gonna start working as a coordinator for international volunteers in some months, so it was crucial. I knew that facing a new job, together with the old one of teaching, was not going to be an easy experience. And I was right.
You never see burnout coming, even if you are expecting it to happen. It's something that goes slowly, progressively. First, you realize you're more stressed than usual, but that's normal, right? I mean, I was starting a new job, and soon after I was starting my old job, it was just about getting used to both. Then you start feeling that you never get enough rest, your free time is never enough. Especially if there are other external issues that you can't control, like, in my case, a few problems with the new place I just moved in. You cancel social plans to sleep more because your sleep quality starts to be worse. You want to make a change, to control your life, so you put all your free time to get better, organizing all the tasks you have to do, preparing for the lessons, worrying about the volunteers who are coming, crossing a few lines of your infinite to-do list. And when you realize, you see yourself not being yourself, because you stop doing things you enjoy, or you stop enjoying the few things you do when you're not thinking about the work. See? Wow, I was just getting ready, I was just trying to adapt to my new situation, to the new task of being responsible for 2 people who were coming to live and work here, I was attempting to do my best despite all the mistakes I could have. It was only for some weeks until I got better, how did those 2 months with anxiety pass so fast? How it occurred that I was not enjoying any single second for so long? I went to the training course, I was supposed to be ready.
But I went to the training course, and that's why I was aware. I went to the training course and I knew I had to say no to things, so I quit my other private language lessons the first night I could not sleep because of the anxiety. I went to the training course and that's why I knew I had to set boundaries once I saw that I was doing more than coordination tasks. I knew I had to ask for help and that's what I did. Luckily, I could also get out from that context for a few weeks, stay with my family, and rest, and because I went to the training course, during these holidays I gained that damn life perspective I am mentioning every second paragraph, and now I feel able to listen to myself, soon enough.
To all the social/youth workers: it is hard to deal with situations you cannot control and you wouldn't expect to happen, because each person is different, and every other situation where you don't know what to so it's not a failure. Communicate to others if you start to feel that something is wrong with your health, ask for help from other colleagues, try to be strict in respecting your resting time, and remember: your work is not irreplaceable. We shouldn't take responsibilities upon our shoulders so heavily that we cannot dance once in a while, not even walk. Life has to be lighter.
Project "Shine your light" is financed by the Erasmus+ Programme of the European Union.
This publication reflects only the viewpoint of the author.
Gloria.